QChip 384D – アッセイ開発用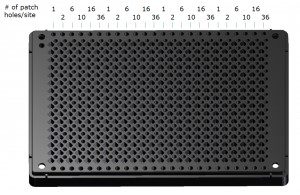 Assay Development QChips enable easy evaluation of the optimal number of holes per measurement site, to ensure that the perfect assay is setup before initiating large HTS screens.
In different cell lines current density can vary significantly and low currents can hinder acceptable signal/noise ratio. However, the number of holes per measurement site can compensate for this and exactly how many holes per measurement site that are optimal can easily be determined with the QChip384D. Each Assay Development QChip cover hole-numbers from 1 to 36 holes per site (1, 2, 6, 10, 16, 36) enabling easy evaluation of the effect of variation in hole numbers per site, to ensure that the assay is robust and optimized.
Evaluate the number of patch holes per measurement site that fits the cell line best
Ensure high success rate of HTS screen
Customized QChips with user specified hole numbers per site available on request
QChip 384D applications
When optimizing assays, many parameters can be varied and depending on assay setup and purpose the number of holes per recording site can have a significant impact on the performance of the assay and the success of the screen. For screening campaigns of hundreds of thousands of compounds an extra effort should be placed in defining correct parameters, hereunder the optimal number of patch holes per site.
Our standard QChips with either 1 or 10 holes per site are suitable for most assays and cell lines, but if another number of holes is identified as optimal, custom QChips can be made to order.
In the shown example data is from recording NMDA currents on the Assay Development QChip.
In this case 10 holes per patch site was evaluated as good for this particular assay and the remaining of the screen with NMDA were run with QChip 384X with 10 holes.
Download product specification here.
Read

more

less

about the QChip 384D – アッセイ開発用