Qube 384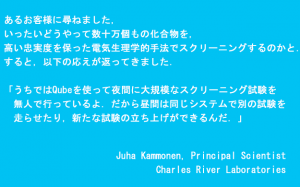 Qube 384を運用頂くことでイオンチャネル研究はもっと容易になります。ギガシールベースの電流記録と無人オペレーションを組み合わせることで、創薬研究をより効率的に行うことができます。Qubeはイオンチャネルのスクリーニングと特性評価のために開発されたHTSシステムで、1日に数千データ以上を取得する必要がある研究室での運用を想定して設計されています。Qubeはイオンチャネルアッセイで求められるハイスループットとHiFiとのギャップを埋めることができます。
1クリックで6,000ウェルにて無人オペレーションに試験を行い、最大24時間で30,000データを取得し、大幅な時間の節約が可能
電位固定、リガンド作動性アプリケーション、カレントクランプなど、すべてのイオンチャネルアッセイに対応
ギガシール記録によりHiFiデータと高SN比を実現
記録時の温度を15〜40度の温度で安定してコントロール
信頼性の高いAI技術による化合物溶液処理により、測定ウェルへ正確に指定濃度の溶液を注入
シンプルで使いやすいソフトウェアとインターフェースにより、誰でもすぐにQubeを運用ができることから、担当スタッフの配置転換も容易
Sophion Analyzerで数回のクリック操作をするだけで、すぐに解析結果が入手可能
Real answers to real questions
Working with Qube 384 is both simple and powerful to give high level answers to relevant questions when developing drugs targeting ion channels. Together with the high throughput it is possible to eliminate the secondary screening that is normally required when using fluorescent based primary screening.
The recording can be with voltage-gated or ligand-gated ion channels and current clamp recordings which can be freely combined, even in the same sweep, and with giga-seal quality. The temperature can be controlled in order to ensure both stable experimental conditions and the ability to study temperature effects on ion channel kinetics and pharmacology at reduced as well as elevated temperatures. The giga-seal quality that is so important for high fidelity ion channel research is achieved with the QChip 384. The QChip 384 has microfluidic flow channels for fast and accurate liquid handling and 384 built in individual electrode pairs to remove the need for maintenance and to ensure long term stability of your recordings.
Intelligent compound handling
In HTS compounds are often placed in plastic plates with the risk of adhering to the well, especially when diluted to final test concentrations. To minimize this risk, Qube can carry out on-board dilution of stock compounds so the final concentration is prepared immediately prior to the actual recording in the QChip.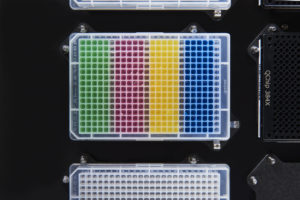 Simple yet flexible
Setting up experiments has been made so simple in the Viewpoint user interface that you can make your first experiments on the same day the system is delivered. And if you need to have multiple users this makes it efficient and minimizes loss of valuable employee time in training. Still, the software is flexible so your application scientist can make special adaptations and mail them to you for immediate use in a matter of few days. The options are endless and reflects the collaboration that Sophion always appreciates with our users.
Full analysis and results made available for the whole company
Unattended gigaseal based automated patch clamping in 384 format generates a large amount of data. The Sophion Analyzer has been designed to be both intuitive and powerful in order to handle this. Data are handled in projects and can be configured automatically and to give any final value that is desired. If necessary, data can also be exported to third party software and Laboratory Information Management Systems (LIMS)
Download the product specification here.
Read

more

less

about the Qube 384